500+ Practice usign RTP Medical Solution
Automate Their Office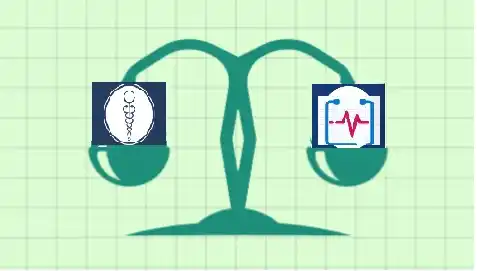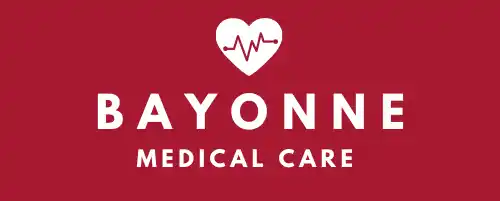 Automate Your Office with
Fully Managed Medical Website


Save Over 25 Staff Hours Per Week!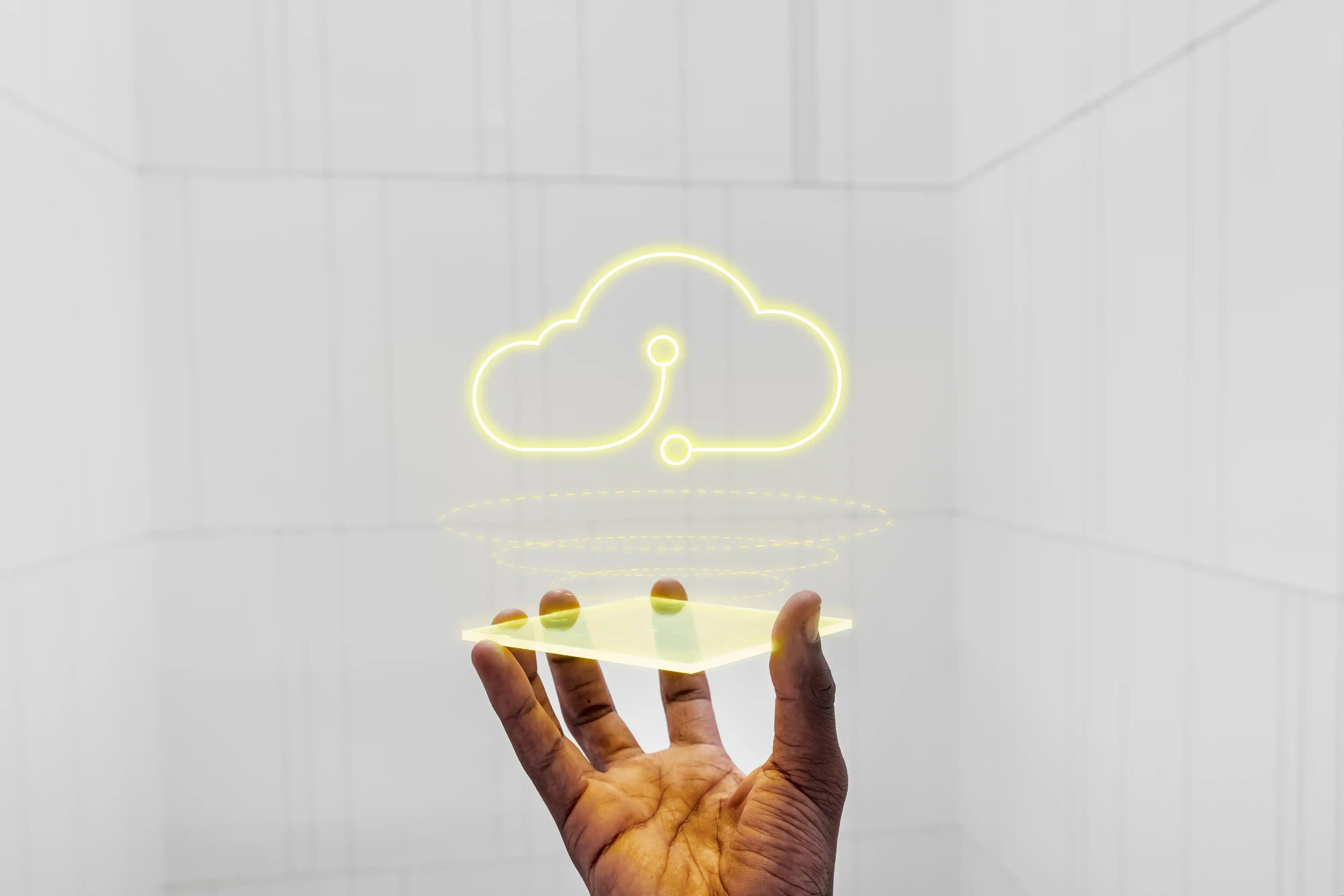 Medical Grade

Hosting
Cloud-Based Servers
Managed Daily Backups
SSL Certificates
Full Domain Management
Responsive

Website Design
Instant Size Adaptation
Fast Mobile Page Load
Touch Screen Response
Click-To-Call Capability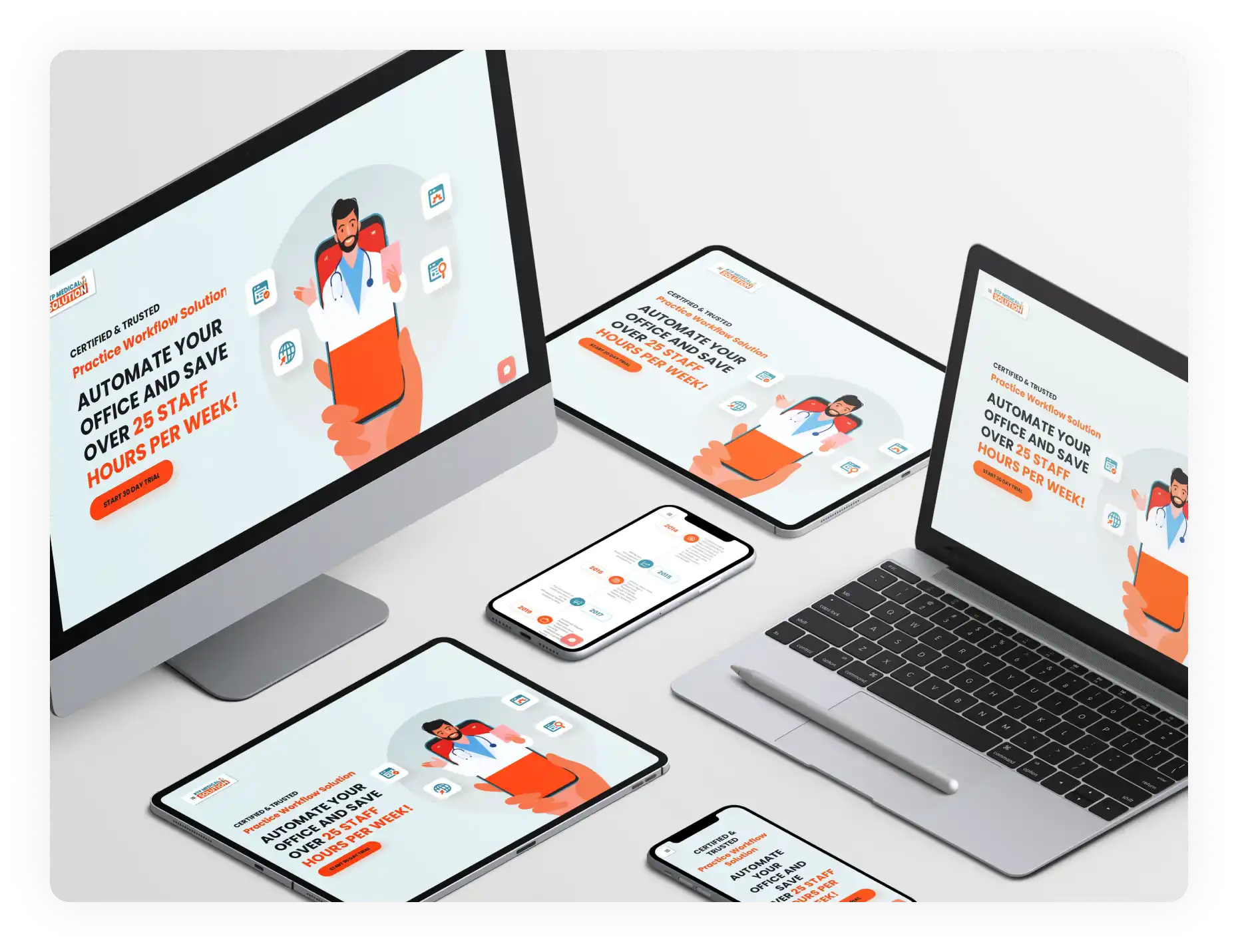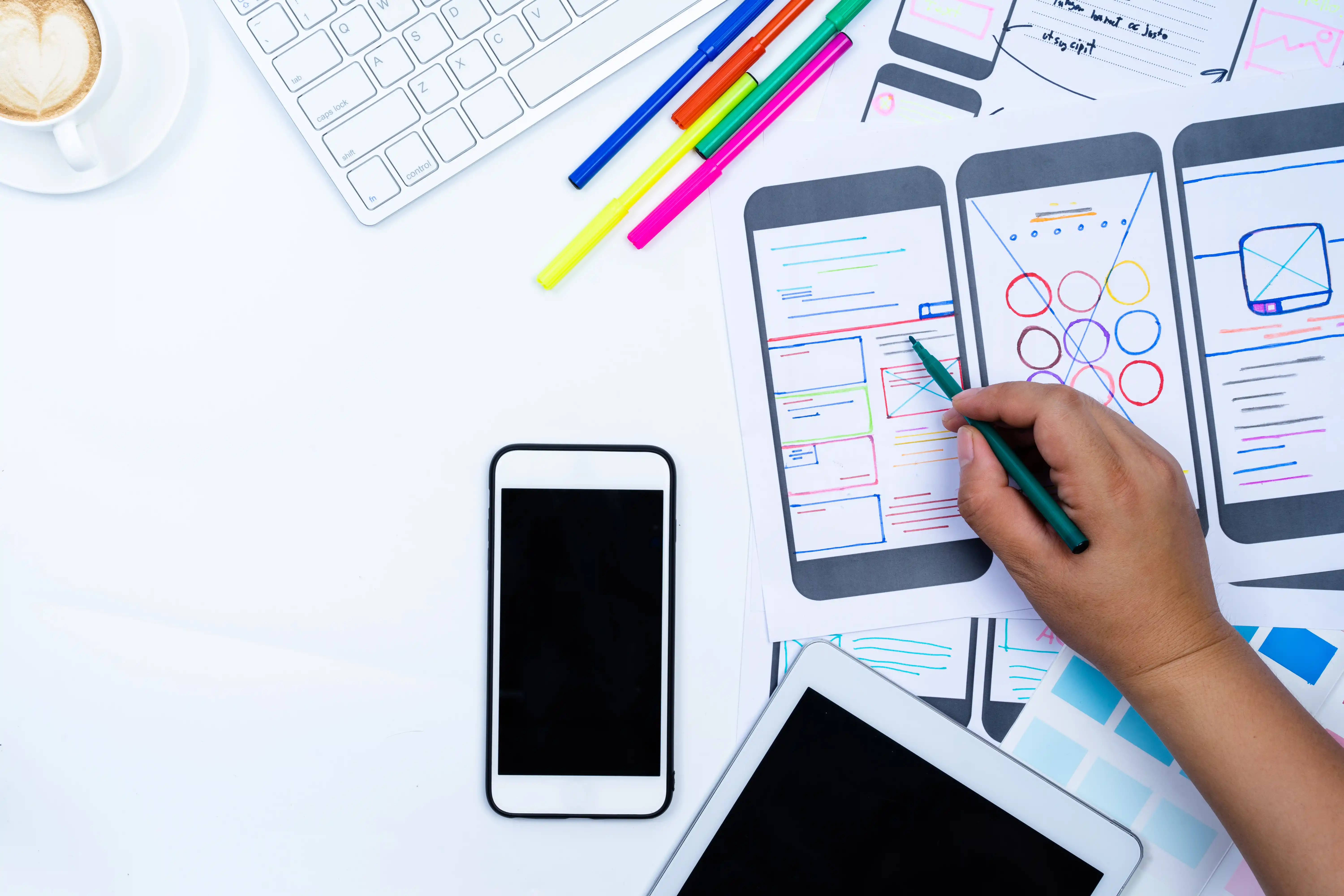 Website

Content Design
Blog
Staff Highlights
Insurances
Social Media
Services
On-site

SEO
Increase website traffic
Page speed optimization
Overall website health score
On-page link structure
Learn More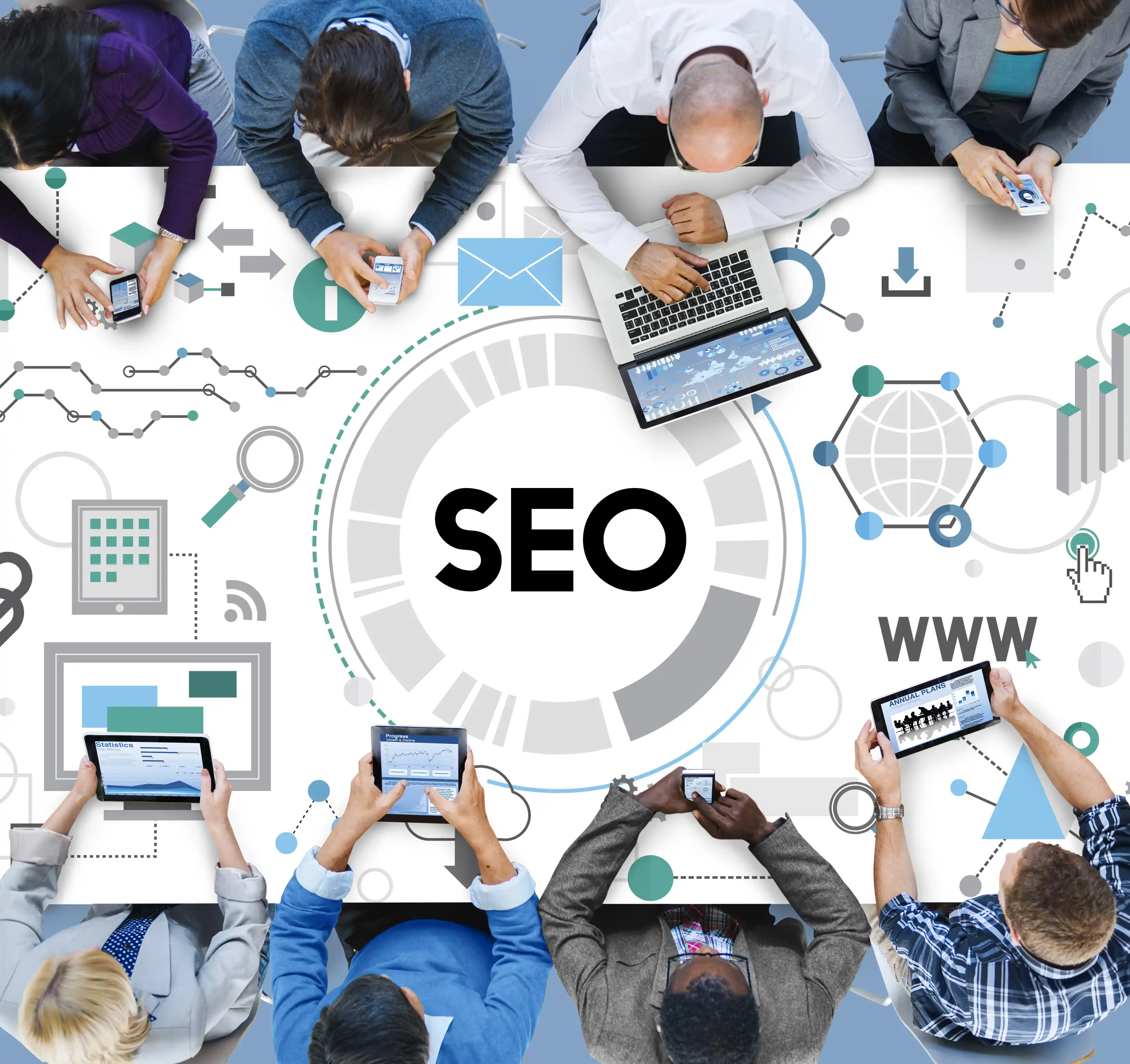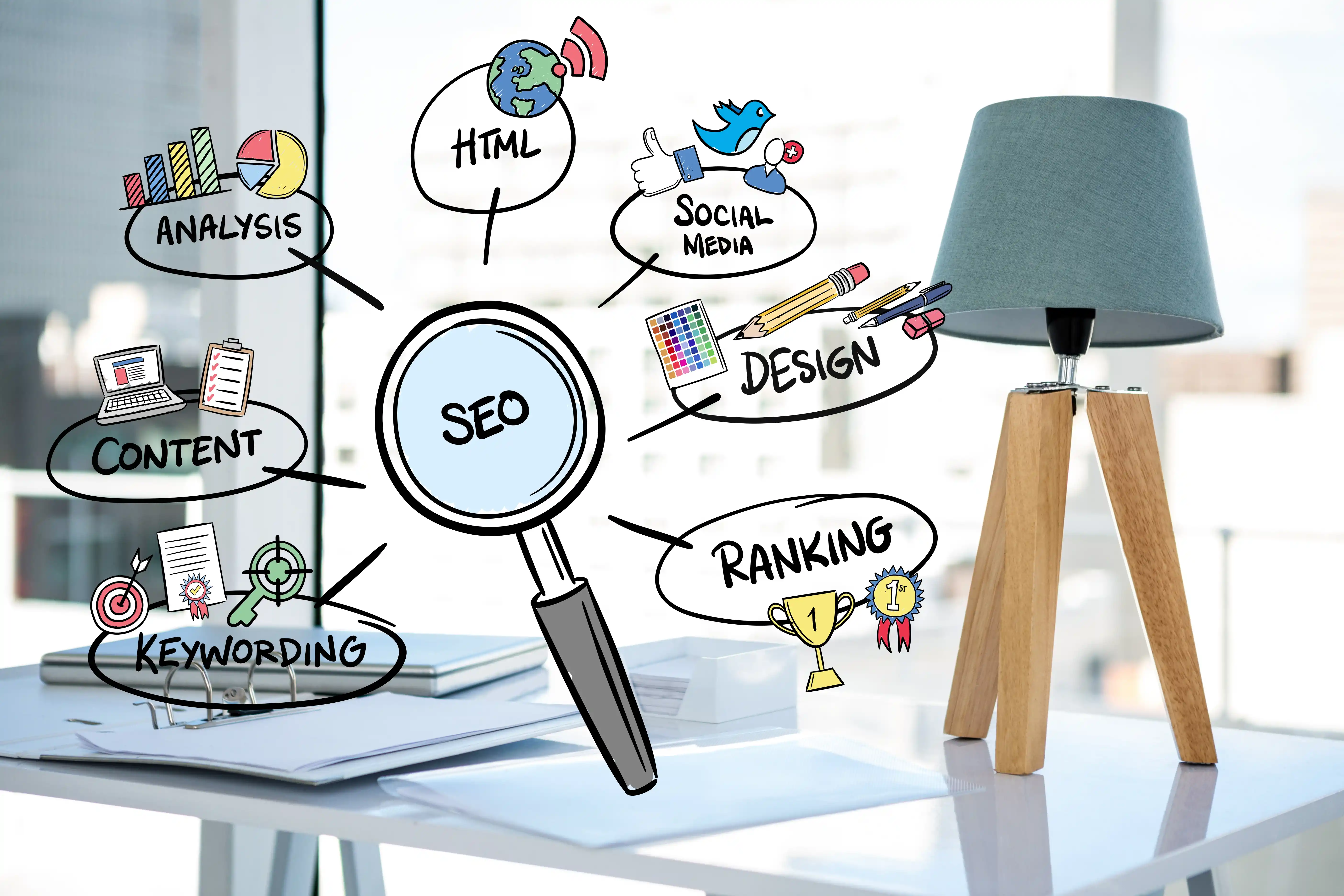 On-going


SEO
Keyword Ranking
Schema.org structured data
Content generation
Weekly website crawls
Learn More
Lets look under the hood
Advanced Technology
Latest Html5, & Css3 Languages
HTML5 is the latest evolution of the standard that defines HTML. The term represents two different concepts. It is a new version of the language HTML, with new elements, attributes, and behaviors, and a larger set of technologies that allows the building of more diverse and powerful Web sites and apprice_listcations. This set is sometimes called HTML5 & friends and often shortened to just HTML5.
Optimized Code And Framework
We say that code optimization is writing or rewriting code so a program uses the least possible memory or disk space, minimizes its CPU time or network bandwidth, or makes the best use of additional cores.
In practice, we sometimes default to another definition: Writing less code.
Designed For High Performance
A website's performance is a very important factor for user engagement and retention. Research suggests if a website takes longer than 3 seconds to load, users leave right away and don't come back. Website performance is the speed of a web page to download, render, and display in a web browser. Website performance is measured in Page Load Time.
Text, Fax And Email Alerts
Message alerts serve as your notification system when patients interact with your website. Use it to receive alerts on your mobile device or computer, so you never miss an important message. Notification options can be customized to meet your specific needs.
Mobile Responsive
Instant Size Adaptation
Modern browsers like the latest versions of Internet Explorer, Firefox, Safari, and Opera support the width and height properties of the W3C Working Draft CSS Device Adaptation. Many websites have prioritized optimization for a 1024 pixel wide window. This ensures a good user experience for a wide variety of displays when the browser is maximized.
Fast Mobile Page Load
Why improving your mobile site performance is critical
Fast sites rank better in search engines. Google stated that one of their ranking factors is site performance, especially for mobile users. Bing also has focused its webmaster guidelines on site speed
Speed optimization reduces server load.
Say goodbye to capacity problems and crashed servers, and hello to less bandwidth usage. Most optimizations aimed at increasing speed also decrease file sizes, saving storage space, and reducing the amount of information that the server needs to send to each visitor.
Fast websites increase conversions.
Fast page loads make happy customers, and happy customers buy more. If it takes ages to load the page, then they are much less likely to continue shopping and browsing for additional products.
Touch Screen Response
Have you ever touched or clicked an element on a web page and questioned whether the site detected it?
Simply altering the color of an element as users touch or interact with parts of your UI gives a basic reassurance that your site is working. Not only does this alleviate frustration, but it can also give a snappy and responsive feel.
Click-To-Call Capability
The definition of click-to-call (which is sometimes called click-to-talk, click-to-dial, or click-to-text) refers to a type of digital communication in which a person clicks a button or text to be connected with another individual in real-time.
Hosting
Cloud-Based Servers
A cloud server is a virtual server (rather than a physical server) running in a cloud computing environment. It is built, hosted, and delivered via a cloud computing platform on the internet, and can be accessed remotely.
Managed Daily Backups
A managed backup is monitoring that's put in place to check the integrity of your company's backups. Your company's data is important, and having adequate backups is a critical part of keeping that data protected. Whether it be a hardware failure or cyber-attack, when disaster strikes, your business will come to a halt unless you have the proper plans and data backups in place.
SSL Certificates
SSL Certificates are small data files that digitally bind a cryptographic key to an organization's details. When installed on a web server, it activates the padlock and the https protocol and allows secure connections from a web server to a browser. Typically, SSL is used to secure credit card transactions, data transfer, and logins, and more recently is becoming the norm when securing browsing of social media sites.
Full Domain Management
Optimize every aspect of your domain's settings, proactively monitor requests to your network, and use monitoring data to determine the requirements of your network.
Simprice_listfy your domain management - quickly add DNS records, hosts, and mail servers. We will publish and manage your DNS records.
Additional Features
Image Library with copyright-free photos
A copyright-free image is one that is provided by the photographer to be used by any person. However, the owner of the picture or photographer may still own a copyright on a particular photo or image but simply has provided authorization for the image to be used by others.
Content Generation
It has been well researched that higher text content volumes are related to better ranking ability in general. Included
1 Blog post related to health care industry
Partner Blog Post
Extra*
Social Media posting calendar
Boost your ranking on Google
Improve your website's user experience
Write great content optimized for SEO
Get more backlinks
Improve your page speed
Fix broken links
Optimize your images
Use H1 and H2 header tags
Optimize for local search
Social media integration
Adding links to your social media profiles is the simplest way of integrating social media into your website. Links to social media profiles allow users to quickly navigate to their favorite network as a means to find out more about your company, contact you, or share your content.
Dedicated support
Available support 24/7. Contact by phone or email.
Choose From Over 20 Custom Designs!
Pediatrics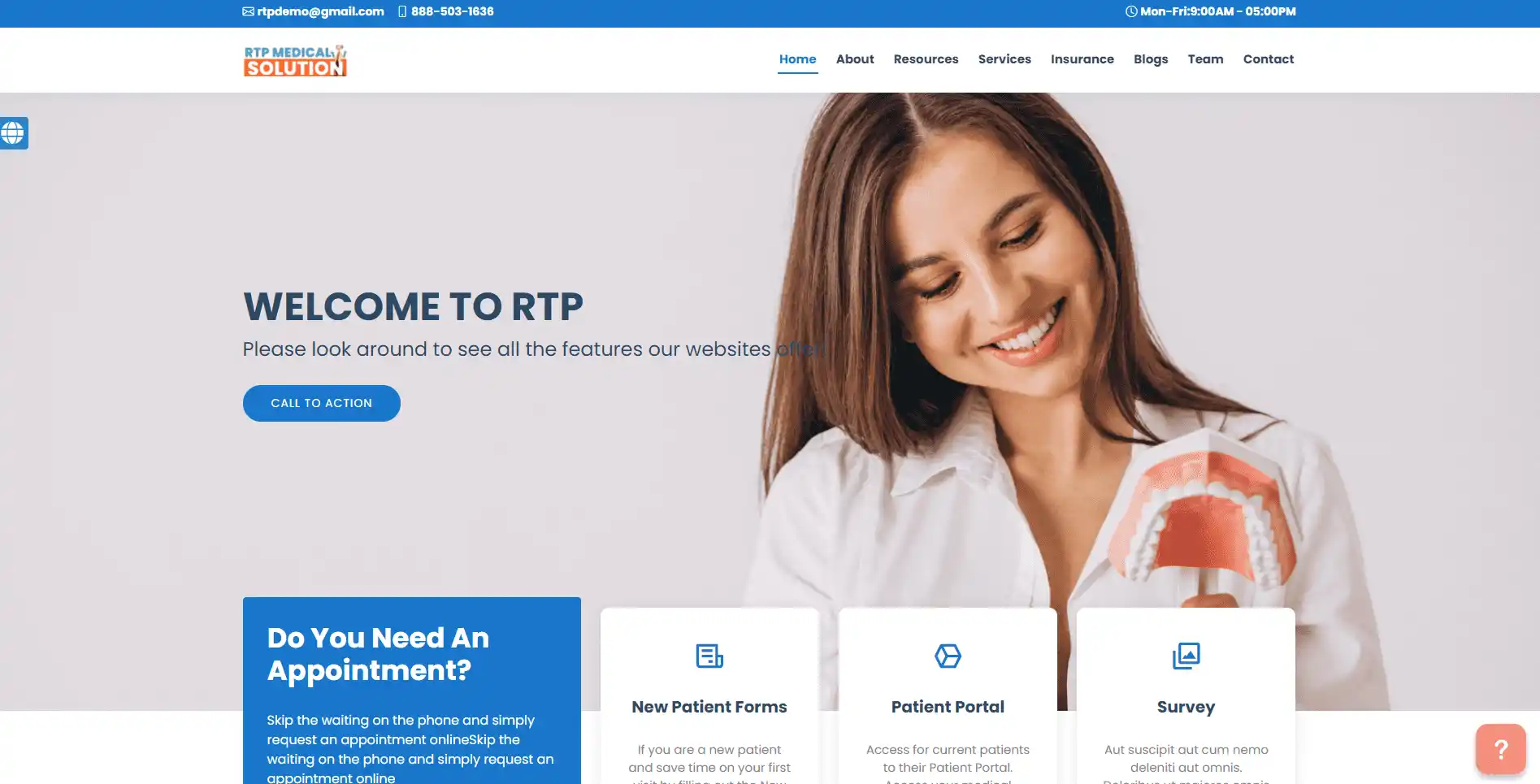 Dental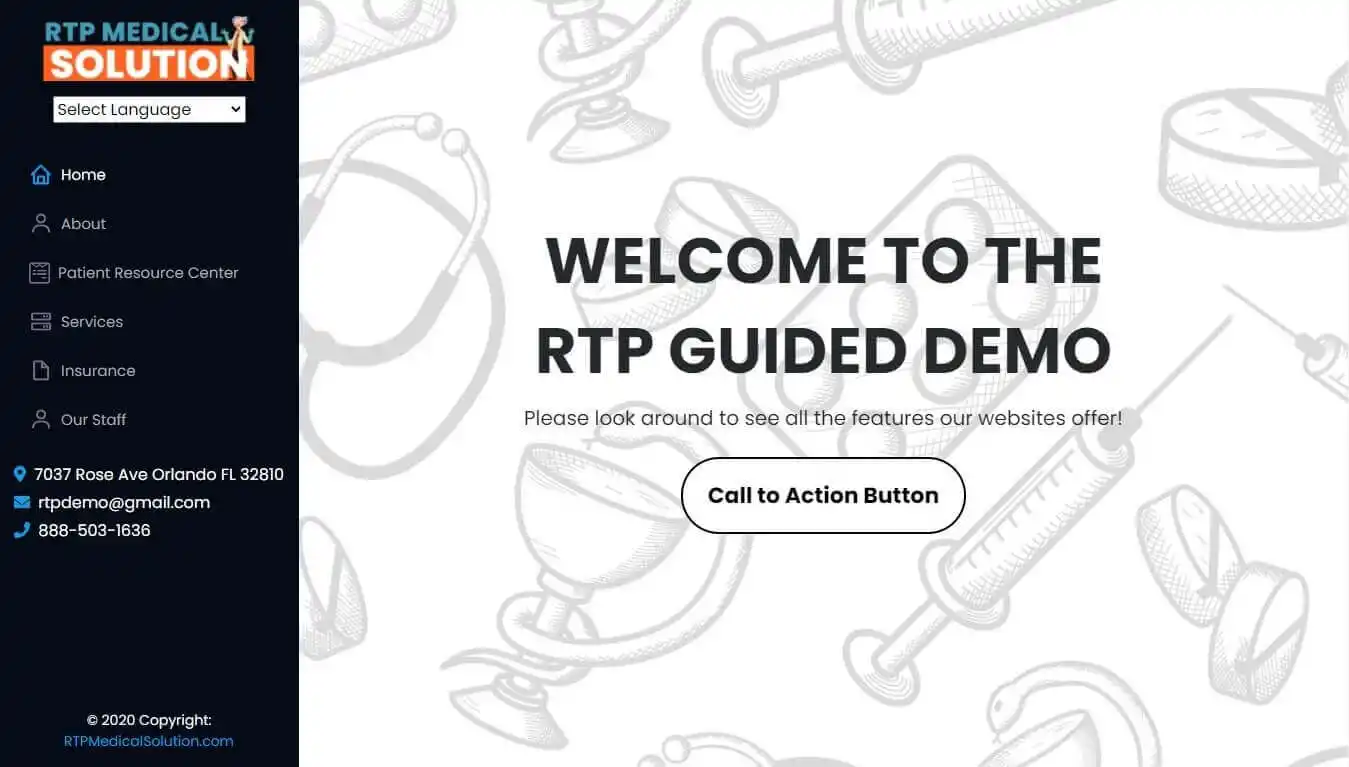 Family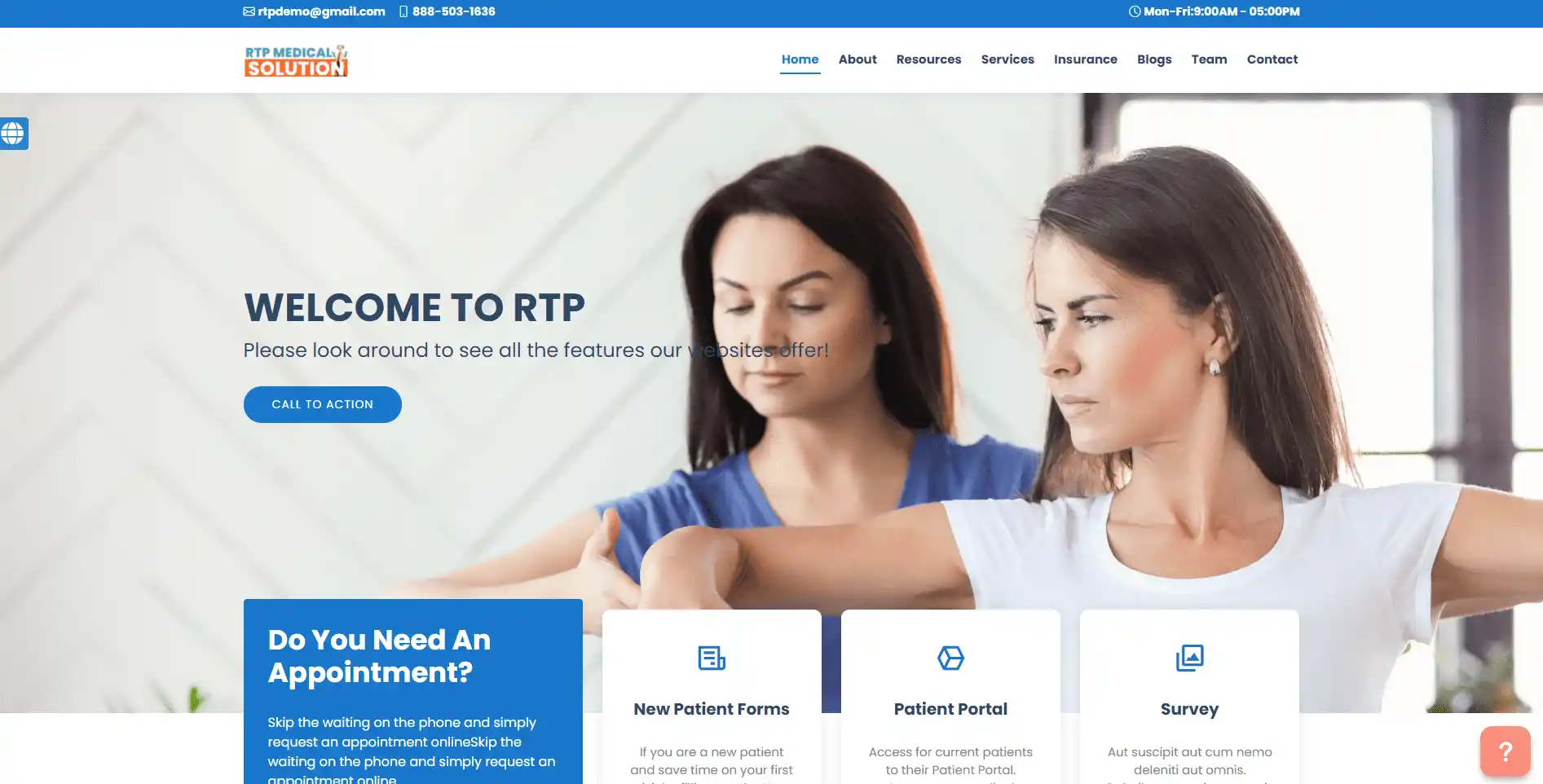 Chiropractic
Explore More Features Of The RTP Medical Solution

Automation. Seamless Integration. Cloud-Based.