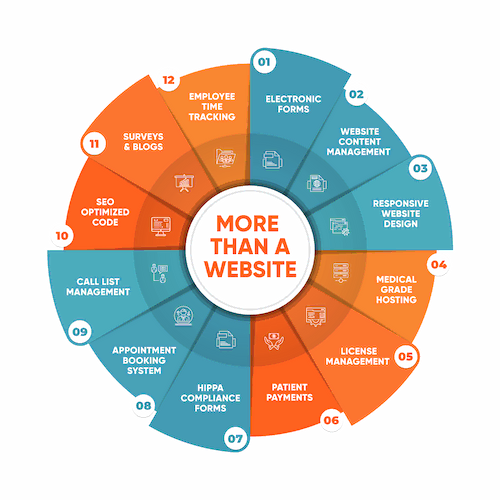 Its a
Practice Workflow Solution!
Fully Digital New Patient Forms
Collect and Track Patient Survey
Completely SEO optimized code
Appointment Booking System
Track and Manage Licenses
Included Medical Grade Hosting
Electronic HIPAA Compliance Forms
Contact Dr. RTP's Team TODAY!
Common Issues In Medical Websites
Not mobile friendly
Ugly, outdated design
Not using HTTPS protocol
Poor choice of fonts
Poor choice of imagery
Incoherent messaging
Slow site
Keyword stuffing
RTP Medical Solution Dashboard
Web Development

01. Medical Grade Hosting

Cloud-Based Servers
Managed Daily Backups
SSL Certificates
Full Domain Management

02. Responsive Website Design

Instant Size Adaptation
Fast Mobile Page Load
Touch Screen Response
Click-To-Call Capability

03. Website Content Management

Blog
Staff Highlights
Insurances
Social Media
Services

04. Social Proof

Smartly collect reviews with the RTP Tablet
Get more social reviews from 4 and 5-star patients with follow up SMS & Emails
Collect more online reviews with dedicated forms
Live stream reviews on your website via the RMS Widget
Access to the RTP Portal to manage reviews
Custom navigation links for patients to your online reviews
750 monthly reviews included
Web Development
SEO Optimized Code

Device Renderings

Mobile Viewports

Flash and iFrames

Title Tag

Meta Description Tag

Image Alt Attributes

Favicon

Tap Target Sizing

Legible Font Sizes

Page Speed

Page Size

Java Script Errors

GZIP Compression

Optimize Images

Minification

Deprecated HTML

Inline Styles

Friendly URL's

On-Page Link Structure

Google Analytics

Keyword Positions

Robot.txt

XML Sitemaps

Headers and Tags

Facebook Pixel

Facebook Open Graph Tags

Schema.org Structured Data

Weekly website crawls

Backlink building strategy
SEO Optimization
Patient Payments

01. SEND PAYMENT REQUESTS IN 30 SECONDS

Staff members can easily create payment requests from the dashboard

02. SECURE PAYMENTS YOU CAN TRUST

Upon request patients receive a unique link to make payments - All payments are secured by Authorize.net

03. MORE DASHBOARD CONTROLS

Explore more controls at your fingertips. Your staff can collect payments from the dashboard as well!

04. STAY UPDATED ON CHANGES

Get notified when a payment is made - Issue full or partial refunds on request

05. LIGHTENING FAST PAYMENTS

Fast and convenient payment options ( online, telephone, and e-mail) to improve client satisfaction and boost your payment figures

06. WORK SMARTER. EARN MORE

Eliminate the risk of running into bad debt by reducing third-party collections
Patient payments
HIPAA Compliance Forms

01. Execute all contracts electronically

RTP's Interactive platform allows you to conveniently handle your contracts anytime, anywhere with your patients. Get your contracts sorted out faster through a credible platform!

02. Three types of HIPAA compliant medical forms

03. Embed Securely on Your Site

Stay protected with top security modules that allow you to embed on your website with ease!

04. Keep track of renewals and get notified early

Get notified when renewal dates draw closer and keep track of renewals to take action early.

05. Get rid of paper tracking

Welcome to the future! Get rid of the cumbersome paper tracking, work smarter, more organized, and a lot faster!

06. Keep all records updated

All records are properly organized and constantly updated on the portal to ensure you never miss out on any detail.
HIPPA
Call List Management

Custom list creation

Easy filter shortcuts

Upload records via CSV

Update status

Access to Records history

Easy Integration with all major EMR/HIS systems
Call List Management
Electronic Forms

Prevent unnecessary calls about routine requests

Help your staff and patients manage and track requests with the RTP Dashboard

Keep your patients always informed with automated notifications

Save Money and Time

01. Authorization Release

Conveniently collect electronic authorization release
Upload requests for users easily
Gives users access to uploaded requests on the portal
Create PDF of submission

02. Request Forms

Allow patients and users to request forms
Upload requests for users
Access to uploaded requests on the portal
Create PDF of submission

03. Update Demo

Allow patients to update their demographic and insurance information
Dashboard for tracking submissions
Create PDF of submission

04. New Patient Form

New Patient/Intake forms
Allow patients to save and continue later
Create PDF of submission
Get rid of paper forms
Electronic Forms
Appointment Booking System

Customize your availability schedule

Create custom appointments with different intervals
Block unwanted schedules
Fully control your availability 24/7

Clients can book appointments directly from your website

Automatic reminders are sent via text and email

Collect client info during booking

Use electronic intake forms during new patient appointments to get patient info

Approve/Deny/Update appointments on the dashboard

Regulate the stream of incoming appointments

Automate with EHR with HL7/CSV

Your calendars are synced based on your EHR
Appoinntment Booking
Employee Time Tracking

Track Time in and Time out for employees with Geofencing

Track paid time off via Accrue option

Employees can conveniently track and request PTO hours

Admins can approve or deny PTO Requests
Employee Time Tracking
Review Management System

Review Collection

It proactively helps with collecting reviews; thanks to the RTP Tablet on premises.

Follow Up

Follow up SMS & Email to patients that leave 4 and 5 star ratings prompting them to post their reviews on their social media.

Online Forms

Dedicated online form to collect online reviews.

Custom Links

Custom navigation links for patients to your online reviews.

Live Streams

Live stream of reviews on your website via RMS Widget.

Monthly Reviews

750 monthly reviews included.

RTP Portal

Access to the RTP Portal to manage reviews.
Review Management System
Medical Blogs

Create, Publis & Manage Blog Content and image with tools

Share buttons for popular social media sites

Custom URL for your blogs

Organize posts to make it easy for readers to find new and related content
Medical Blogs
License Management

Consolidate and upload all licences/contracts to the dashboard

Track expiration dates

Custom automated notifications of 90/60/30 days

Upload renewals to keep trail and copy of each update
License Management
Practice Documents

Free Forever

$0
Start Free Forever
/Month - No Contracts - No Set up Fees
---
Design and Development

Hosting

Usability

Security

SSL Enabled
HTTPS Redirect
Malware Check
Email Privacy

Testing

Dedicated Maintenance

Routinely Updating
Resident

$179
Start 30 Day Trial
/Month - No Contracts - No Set up Fees
---
Physician

$319
Start 30 Day Trial
/Month - No Contracts - No Set up Fees
---
Lets look under the hood...
Social Media and Beyond
Review Management System


Dr. RTP's Template Library
Ready For The Next Level?
DAILY SOCIAL POSTS
$99/Month
Keep your audience always engaged and increase client interaction with your brand! This pack enables you to get your daily content posted on your various social media accounts like Facebook, Instagram, Twitter, Linkedin, and Google my Business. What's better? Our system is automated, so you're right on time!
Device Renderings

This check visually demonstrates how your page renders on different devices. The average active internet user accesses websites through smartphones and tablets. Proper website optimization enables your pages to render properly and more traffic will be redirected to your website.
Mobile Viewports

A viewport is the visible area of a web page. Viewports are important to ensure that your page content sizes appropriately for different mobile devices and tablets. Websites without this meta tag won't pass the Google Mobile-Friendly test and it can impact negatively on your positioning in mobile search results.
Flash and iFrames

Special coding libraries like the Google Tag Manager require iFrames as part of their integral functionality. Although iFrames can comprice_listcate navigation and search engine index for other platforms, it is still an important coding tool for functional websites.
Title Tag

A title tag is a piece of HTML code located in the
element. It enables search engine users to define the content of web pages. It is not a part of the HTML document; rather, it consists of the whole HTML document. It is also one of the most important (and easiest) on-page SEO factors.
Meta Description Tag

A meta description is important for search engines and people to understand the content of your page. It is often shown as the description text blurb (snippet) in search results and will often appear when your articles are shared across other websites and social media channels.
Image Alt Attributes

Alternative text, "alt attribute" or "alt text" is an HTML attribute that describes an image as a text. It is used by search engines to help define what that image is about and it is not seen by users unless there's an issue (slow internet connection or src attribute error) or they are using a screen reader.
Favicon

Also known as a shortcut icon, website icon, tab icon, URL icon, or bookmark icon, this is a file containing one or more small icons,[1] associated with a particular website or web page. It is usually displayed on the address bar of a browser or in front of the site's name in the list of bookmarks.
Tap Target Sizing

The sizing of a tap target is triggered when tap targets like links or buttons are packed closely together or are too small for a user to click on them. Smaller screens pose a greater challenge as the size of tap targets gets scaled down on such devices. Tap targets should be big enough for a fingertip to touch as tapping one thing and mistakenly hitting another is frustrating for your users.
Legible Font Sizes

16px is the minimum when it comes to desktop browsing, while for mobile browsing, the sizes around 16px will do. Using bigger font sizes will increase readability and hierarchy, and make it easier for the reader so they don't get frustrated and leave your website.
Page Speed

Page speed is often confused with "site speed," which is actually the page speed for a sample of page views on a site. Page speed can be described in either "page load time" (the time it takes to fully display the content on a specific page) or "time to first byte" (how long it takes for your browser to receive the first byte of information from the web server).
Page Size

Page size refers to the downloaded file size of a given web page. It is made up of all the files that make up the page. A typical web page is made up of several files that may include HTML, CSS, Javascript, or image files, as well as other resources. A general rule is to keep your page under 5MB in total file size.
Java Script Errors

Errors are statements that prevent the program from running properly. There are three main types of errors that can occur while compiling a JavaScript program. These errors include syntax errors, runtime errors, and logical errors.
Syntax errors are the most common type of error that occurs in any programming language. They occur during the runtime of the program(after it is interpreted by the compiler) and are the most difficult to find.
Consider a statement: ''John is playing guitar.'' This statement is logically correct and its syntax is also correct. Now consider another statement: ''Guitar is playing John.'' This statement's syntax is correct but it is logically incorrect. These types of errors cause a serious problem as they change the whole path of how your program will work.
GZIP Compression

File compression is an important part of enhancing the achievement of great page loading speeds. Use apprice_listcations like gzip to compress files and reduce the HTML, CSS, and JavaScript file sizes. Files larger than 150 bytes should be compressed for better loading speeds.
Optimize Images

Optimizing images while maintaining quality requires you to compress the photo to reduce its size but not its dimensions. This will reduce the page size and also improve the site's overall speed. Some tools such as Adobe Photoshop and GIMP can be used to compress your images without compromising quality.
Minification

Minifying resources is the process of eliminating redundant or unnecessary data from your web pages without affecting how they are processed by browsers. It could involve the removal of unused codes, code comments, or shorter function names. Minification allows the data to be transferred quickly thereby making the page load faster.
Deprecated HTML

Generally, "deprecated" means something disapproved. In IT, deprecated elements are those elements that are allowed, but not recommended and are being replaced by newer ones. So, a "deprecated code" means that it is not recommended to use as there is a better alternative in that software to use instead. As of the release of HTML5, the use of certain elements is discouraged.
Inline Styles

Using inline styles is generally considered a bad practice. Because style rules are embedded directly inside the HTML tag, it causes the presentation to become mixed with the content of the document, which makes updating or maintaining a website very difficult.
Friendly URL's

A friendly URL is a Web address that is easy to read and includes words that describe the content of the webpage. This type of URL can be "friendly" in two ways. 1) It can help visitors remember the Web address, and 2) it can help describe the page to search engines.
For example, a company may use the URL "www.[company].com/support/" for the support section of their website. This is much easier to remember than a long convoluted URL, like "www.[company].com/section/support/default.aspx?id=1&lang=en".
On-Page Link Structure

In the SEO industry, when you hear the term "link building," you probably assume the person is talking about external links or backlinks.
This makes sense. After all, backlinks from other websites are a strong signal to search engines and a driving force behind organic search rankings.
Google Analytics

Google Analytics works by the inclusion of a block of JavaScript code on pages on your website. When users to your website view a page, this JavaScript code references a JavaScript file which then executes the tracking operation for Analytics. The tracking operation retrieves data about the page request through various means and sends this information to the Analytics server via a list of parameters attached to a single-pixel image request.
Keyword Positions

This shows you a summary of the positions for your Keyword Rankings. The higher you rank, the more likely you are to capture traffic, with recent research showing that as much as 92% of clicks happen on the first page.
Robot.txt

The robots.txt file, also known as the robots exclusion protocol or standard, is a text file that tells web robots (most often search engines) which pages on your site to crawl (processed) or not.
XML Sitemaps

A sitemap includes a list of your pages that are available for crawling, as well as other useful information for search engines such as last update times and priority of pages. Sitemaps are recommended to ensure that search engines can intelligently crawl all of your pages although having a large number of pages on your site means the robots take more time to crawl and this can affect your rankings negatively.
Headers and Tags

HTML header tags are an important way of signaling to search engines the important content topics of your page, and subsequently the keywords it should rank for.
Social

Social activity is important for customer communication, brand awareness, and as a marketing channel, to bring more visitors to your website. We recommend that you have all of your profiles listed on your page for visibility, and work to build a following on those networks.
Facebook Pixel

When someone visits your website and takes an action (for example, buying something), the Facebook pixel is triggered and reports this action. This way, you'll know when a customer took an action after seeing your Facebook ad. You'll also be able to reach this customer again by using a custom audience.
Facebook Open Graph Tags

Facebook Open Graph Tags are a type of structured data that can be placed on your page to control what content is shown when a page is shared on Facebook. In other words, it displays a preview (like a metal description) of the linked page on Facebook.
Schema.org Structured Data

Schema.org is a structured data markup for webpages which helps Search Engines understand your site better and provide rich snippets directly in their search results. It basically tells the search engine what the data on your site means so that it doesn't get indexed in the wrong way.
Weekly website crawls

Find and learn how to fix common technical SEO issues that may impede your site's ability to receive high-quality traffic, rank, or be indexed by search engines. Let Moz Pro monitor a wide range of site issues like broken redirects, missing title tags, and many more. Then prioritize which issues to fix first for maximum effectiveness.
Moz Pro crawls large sites fast and keeps track of new and recurring issues over time. Colorful charts show the breakdown of issue categories, new issues, and total issues; allowing you to easily discover trends, opportunities, and inform individuals on the site's overall SEO performance.
Backlink building strategy

Link building is never-ending in SEO, but a little creativity and smart tactics can help you ferret out great link opportunities from their hiding spots.
For medical offices, we have developed an easy system to implement to start building these links. Includes initial contact pitch, emails, and follow up to ensure steady communication with your audience.
Updated Keyword Lists

Ranking for the right keywords can make or break website success. Keyword Explorer streamlines your workflow and improves how you discover and prioritize the best keywords to target in less time.
Find better keyword opportunities by seeing thousands of intuitive suggestions and comparing keywords for which sites rank, from the most extensive, credible online database of high-quality English keywords and fresh SERP data – nothing older than two weeks.
Better predict keyword performance based on Search Volume estimates with 95% accuracy. Gauge competitiveness and estimate click-through-rates on the SERP with Difficulty and Organic CTR metrics. Add weight to a keyword's importance to your business by assigning a custom score.
Keyword Consistency

Your page content should be focused around particular keywords you would like to rank for. Ideally, these keywords should also be distributed across tags such as the title, meta, and header tags.
Content Generation

It has been well researched that higher text content volumes are related to better ranking ability in general. Included
1 Blog post related to health care industry
Partner Blog Post
Extra*
Social Media posting calendar
Search Engine Indexing

Indexing issues are caused when search engines try to index your site but due to technical issues, they fail to index some pages.
There are 3 priority checks you should perform:
Firstly, check that there are no tags in the HTML code which are preventing the site from being indexed by search engines.
Secondly, check that the site has a valid XML Sitemap submitted to Search Console.
Finally, check that the site has a robots.txt file.